TikTok is an adventure in content creation, a world of endless opportunities and constantly evolving trends. But for your content to flourish, it has to sound good. That's why picking the best TikTok microphone is such an important choice. You can shoot a video more than once, but no one wants to miss the perfect take because of bad sound.
Selecting the best microphone for TikTok depends on what you're looking for. Is sound quality your main concern? How vital is whimsy and the size of your mic? Do you need wireless? Do you do live interviews? These are essential things to consider before you spend your hard-earned cash. Here are the best TikTok mics for your next video.
What TikTok microphone should I buy?
Best microphone for TikTok you probably already have: Apple Wired Earbuds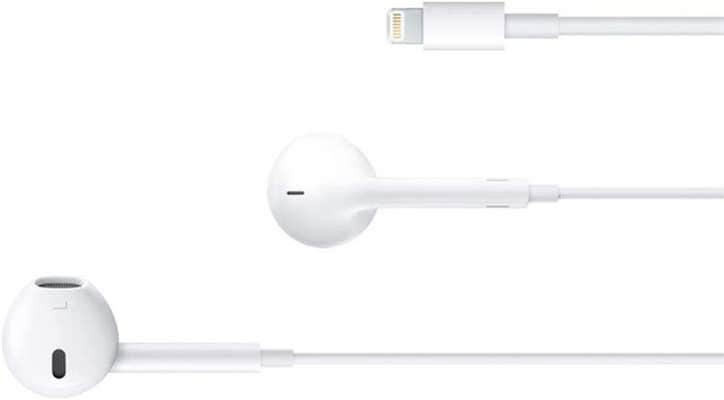 Price: $29.00 (usually on sale for $17.99)
When you think about it, you shouldn't be surprised that Apple's wired earbuds are one of TikToks best microphones. They've featured in millions of front-facing camera clips, from daily stories to complete songs. There's something comforting about a creator holding up the mic on their earbud cords to tell a tale. But beyond being popular, these guys just sound great.
There are a few contributing factors. The direct-wired connection means there's less interference on your signal. You can control the microphone placement yourself and cup it in your hand to block wind noise. Plus, Apple makes great products, and even in the shadow of AirPods, these hold their own. The Verge put them against the other most popular earbuds for a product test. You can hear the difference yourself.
Don't let the price fool you. If you don't need a wireless mic for visual reasons, this is one of the best options around for iOS. The cost is just a bonus.
Pros:
iOS users probably already have them
Incredible sound quality whether making TikToks or taking calls
Compact and durable
Has a physical mic you can talk into, unlike AirPods or other wireless earbuds.
No battery, just plug-in, and use
Plugs into your Lightning port
Cons:
The look of talking into earbuds might not fit your visual brand
Can easily get tangled
They don't come with a protective carrying case
Best alternative to Apple Earbuds for Android TikTok creators: UliX Rider Wired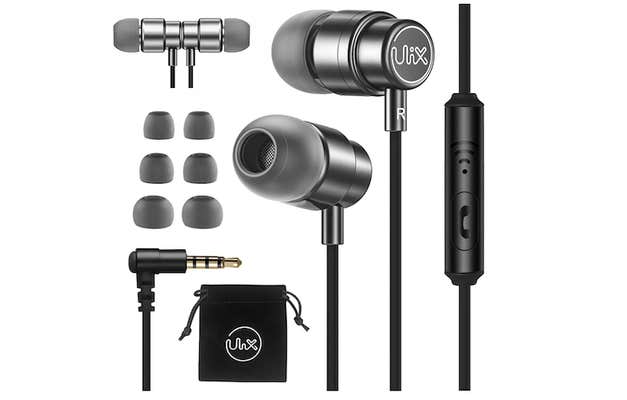 Price: $20.00 (usually on sale for $17.99)
Apple Earbuds are fantastic, they're not the only game in town for affordable, high-quality TikTok mics. UliX's Rider wired earbuds are the best alternative on the market at the price point for phones with a 3.5mm connection. They're built incredibly well with an unbelievable five years warranty and a sturdy reinforced cable.
In fact, as someone who uses Apple Earbuds as my walking-around headphones, I wish Apple's wired earbuds had this build quality. Apple's sound quality is slightly better to my ears. But with anti-tangle cords or magnets in the buds to keep them together, these are built to last.
Each pair comes with three sizes of ear cushions so you can make sure they fit your ear perfectly. There's even a little bag to keep them safe while you travel.
Pros:
5-year warranty
Incredible sound quality, whether making TikToks or taking calls
Compact and durable
Has a physical mic you can talk into, unlike other wireless earbuds
Three sizes of ear cushions and a protective bag
No battery, just plug-in, and use
3.5mm connection leaves your charging port free
Cons:
The look of talking into earbuds might not fit your visual brand
Will need a connector if your phone doesn't have a 3.5mm jack
Best wireless microphone for TikTok: Synco Wireless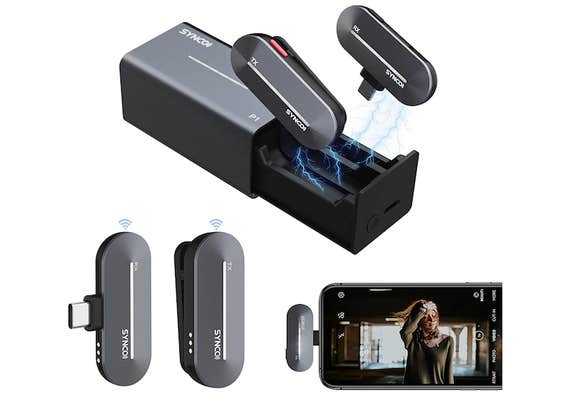 Price: $79.99
Different creators have different needs, and not everyone wants to hold an earbud cord up to their mouth. Whether you make long-form essay videos, street interviews, or just like talking with your hands, Synco provides. This unit has a powerful 2.4GHz lapel mic with a charging case and a battery life of 5 hours. It comes in USB Type C and Lighting models.
Its sliding protective case holds a clip-on Lavalier microphone and the connection port for your phone. Simply connect the receiver to your phone and hold the button on the mic down for three seconds, and you're ready. The wireless connection works up to 50m without losing sound quality. Having used these mics firsthand for podcast interviews, these units produce crisp and clear audio even during movement.
There's also a built-in auto noise reduction to help focus attention on your voice while recording. Beyond its excellent sound quality, long battery life, and compatibility with any phone, this set has a built-in voice changer. To spice up your recordings, activate nine different effects, including Voice Amplification, EDM, Baby FX, and Monster FX.
Pros:
Charging protective case holds two full charges
5 hours of recording time per charge
2.4 GHz frequency mic with a 150m max range and 50m of range without sound quality loss
Comes in two colors, Stone Blue and Pearl White
Light clip-on mic is easy to place
Quick and straightforward connection
Cons:
Clip on the mic could be stronger
Best earbud microphone for TikTok: Sony LinkBuds S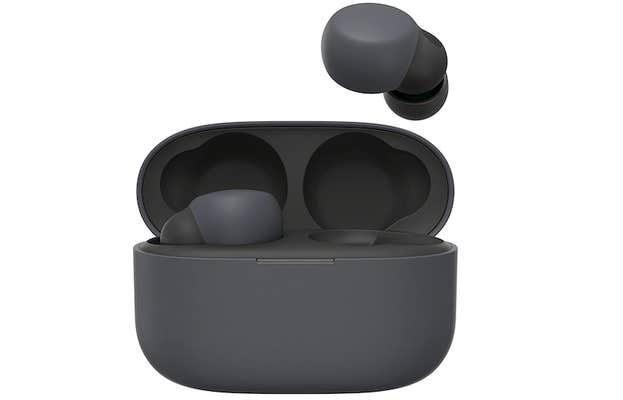 Price: $199.99
It might surprise you that Apple's AirPods aren't taking this spot. We realize they're incredibly popular and sound incredible. However, Sony's LinkBuds S narrowly edge them out for having the best wireless earbud mic on the market. Its Beam Forming Microphone delivers crystal clear audio, whether you're taking calls or making videos.
The LinkBuds S microphone does a phenomenal job of cutting through ambient noise, particularly outside. For most users, the sound quality will be nearly identical to Apple's AirPods. Both devices produce incredible sound. Where the LinkBuds S set themselves apart are the little things.
Unlike the AirPods, these have replaceable ear cushions to get a snug fit in your ear. Its charging case is slightly smaller. Beyond recording audio, we also prefer the sound quality of music on the LinkBuds S.
However, we should also say that wireless earbuds will never provide better sounds than a proper mic. Sound quality will be better with either wired headphones or a wireless microphone.
Pros:
Great microphone for wireless earbuds
High-resolution audio for music listening
6 hours of battery life with 14 hours of charge in the battery case
Get an hour of battery life in five minutes of charging with quick charging case
Comes with six sizes of earbud tips
Support for Dolby Atmos
Cons:
More expensive than AirPods
Wireless earbuds don't have the microphone quality of dedicated microphones or wired headphones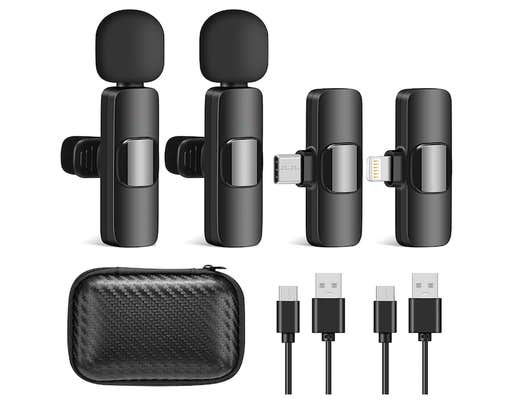 Price: $33.99
We realize when people say they want a tiny microphone for TikTok, they mean something cute and little like this. No judgment; we all want to be a "smol bean" sometimes. However, what if you could combine cuteness, affordability, and good sound in one mic? With the DXQMY wireless microphone system, you can.
This budget-priced wireless Lavalier microphone gives you two microphones and receivers for USB-C and lightning connections. That means you're ready to connect to any smartphone right out of the box. Each mic works up to 64ft away from the transmitter, making it perfect for skits or interviews.
Each mic auto-syncs with the dock to connect to the receiver without an app or Bluetooth. You'll get up to eight hours of battery life per charge. However, what makes it the best tiny mic around is that you have two of them.
You can attach one to your shirt for hands-free recording and then hold the second mic as a small handheld unit to talk to someone else. The DXQMY gives you the visual effect of having a tiny microphone in your TikTok without the awful sound of tiny aux mics.
Pros:
Cute
Two Lavalier microphones for one affordable price
Comes with iOS and USB-C connectors
65ft effective range
Up to eight hours of battery life per charge
Comes with a portable protective case
Cons:
No charging case so you'll need to make sure you plug in both mics a few hours before using
Less than 20 meters of range
Doesn't match the sound quality of other, more expensive Lavalier mics